Saudi Crown Prince receives Egyptian president in Jeddah
Saudi Arabia's Crown Prince Mohammed bin Salman received Egyptian President Abdel Fattah al-Sisi in the early morning hours of Monday in Jeddah. The two officials met for a Ramadan suhoor meal and "reviewed the close and historical bilateral relations between the two brotherly countries, prospects for joint cooperation and ways to enhance and develop them in various […]
Saudi Arabia's Crown Prince Mohammed bin Salman received Egyptian President Abdel Fattah al-Sisi in the early morning hours of Monday in Jeddah.
The two officials met for a Ramadan suhoor meal and "reviewed the close and historical bilateral relations between the two brotherly countries, prospects for joint cooperation and ways to enhance and develop them in various fields," the official Saudi Press Agency (SPA) reported.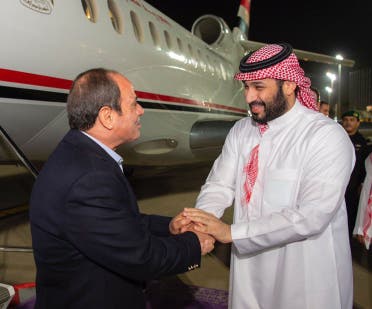 They also "discussed developments in the regional and international situation and the efforts exerted in addressing them, in addition to tackling all issues of common concern."
"I was pleased to meet my brother, His Highness Prince Mohammed bin Salman, Crown Prince of the Kingdom of Saudi Arabia, and as I express my gratitude and appreciation for the warm reception and hospitality, I affirm the depth and strength of the bilateral relations between Egypt and the Kingdom of Saudi Arabia," al-Sisi tweeted following their meeting.
"I look forward to its development and strengthening in all fields, in a way that achieves the common interests of our two countries and the great aspirations of our peoples," he added.
Saudi Minister of State and National Security Adviser Dr. Musaed bin Mohammed al-Aiban and Minister of State Dr. Essam bin Saad bin Saeed attended the meeting along with the Egypt's Director of the General Intelligence Major General Abbas Kamel.
The Egyptian president departed the Kingdom a few hours after the meeting.