Saudi Arabia and Iran's foreign ministers agree to meet for talks during Ramadan
Saudi Arabia's Foreign Minister Prince Faisal bin Farhan and his Iranian counterpart, Hossein Amir-Abdollahian will meet during Ramadan, the official Saudi Press Agency reported early Monday. The diplomats also discussed several issues of mutual interest in a phone call, including their trilateral agreement signed with China. Earlier this month on March 10, Saudi Arabia and Iran […]
Saudi Arabia's Foreign Minister Prince Faisal bin Farhan and his Iranian counterpart, Hossein Amir-Abdollahian will meet during Ramadan, the official Saudi Press Agency reported early Monday.
The diplomats also discussed several issues of mutual interest in a phone call, including their trilateral agreement signed with China.
Earlier this month on March 10, Saudi Arabia and Iran agreed to re-establish diplomatic ties, re-open embassies and exchange ambassadors within two months.
The two nations severed ties in 2016.
The decision to re-establish ties came after talks that took place between March 6 and March 10 in Beijing which saw the signing of the trilateral agreement between China, Saudi Arabia and Iran.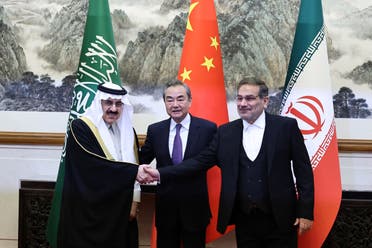 "Saudi Arabia and Iran agree to respect state sovereignty and not interfere in internal matters," the SPA announcement stated at the time, adding that the two countries' foreign ministers will meet soon to arrange for the exchange of envoys and discuss means to enhance ties.
Riyadh and Tehran also agreed to activate the security cooperation agreement signed in 2001 and the trade, economy and investment agreement signed in 1998.