Saudi astronauts to research cancer, cloud seeding, microgravity in space
Saudi Arabia's first-ever astronauts to head to the International Space Station– including the first Arab female in space – will conduct 20 groundbreaking experiments, including research into predicting and preventing cancer and a study into how to generate artificial rain in future human settlements on the Moon and Mars. Ali al-Qarni and Rayyanah Barnawi – […]
Saudi Arabia's first-ever astronauts to head to the International Space Station– including the first Arab female in space – will conduct 20 groundbreaking experiments, including research into predicting and preventing cancer and a study into how to generate artificial rain in future human settlements on the Moon and Mars.
Ali al-Qarni and Rayyanah Barnawi – members of the inaugural Saudi national astronaut program – will be part of the four-man crew Axiom-2 mission to blast off in May from the Kennedy Space Center in Florida.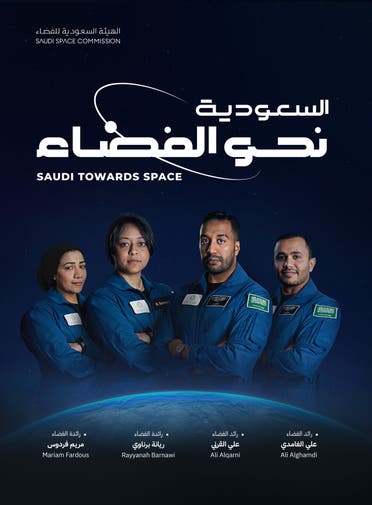 The two Saudi astronauts will join Axiom Space's second all-private astronaut mission to the International Space Station (ISS), marking another pivotal step toward Axiom Station, the world's first commercial space station and successor to the ISS.
Mission Specialists al-Qarni and Barnawi, representing the Kingdom of Saudi Arabia, will be the first Saudi astronauts to visit the ISS.
This mission represents a return to human spaceflight for Saudi Arabia – some 40 years after Saudi Arabia sent the first Arab, Prince Sultan bin Salman, to space in 1985 – and will make the Kingdom the first nation not part of the official International Space Station partnership to have two astronauts aboard the ISS at the same time.
While 263 people from 20 countries have visited the ISS, Saudi Arabia will become only the sixth nation to have two national astronauts simultaneously working aboard the orbiting laboratory.
Axiom Space have now revealed further details on the research planned for the upcoming mission – including initial studies focused on developing future therapeutic applications, studying immune dysfunction in tumor organoid models that can help to predict and prevent cancer, understanding how commercial spaceflight crew members adapt to microgravity, and exploring how weather modification works in low-gravity conditions.
Axiom Space's crew of four astronauts will conduct more than 20 different experiments while aboard the space station.
Data collected in flight will impact understanding of human physiology on Earth and on orbit, as well as establish the utility of novel technologies that could be used for future human spaceflight pursuits and improving life on Earth, Axiom said in a statement on its website.
"It is exciting to see the wide range of important research that will be conducted on this mission and to be taking the first steps in developing future in-space manufacturing applications for some of our biomedical products," said Christian Maender, executive vice president of in-space solutions at Axiom Space.
Axiom Space's Chief Scientist Dr. Lucie Low added: "The projects flying on this mission will advance the use of low-Earth orbit as a manufacturing platform for technologies that could advance human health on Earth, add to our understanding of health in space, and demonstrate how to best operate safely and effectively on orbit."
Mission investigations
The four-man crew will conduct a variety of experiments from DNA nano therapeutics to cancer in low-Earth orbit. They will include:
Cloud seeding in microgravity
Cloud seeding – the process of artificially generating rain by implanting clouds with particles such as silver iodide (AgI) crystals – has been adopted by many countries, including the UAE and Saudi Arabia to increase precipitation in areas suffering from droughts. In this experiment, cloud seeding will be examined for the first time in space under microgravity conditions in the bid to help develop weather control technology to generate artificial rain in future human settlements on the Moon and Mars.
Stellar stem cells
This project seeks insights into the impact of microgravity on producing stem cells and stem cell-derived products in space. Using space to evaluate the steps used in terrestrial manufacturing to reprogram skin cells (fibroblasts) into stem cells capable of producing a variety of tissue types (heart, brain, and blood), could support regenerative medicine uses on Earth.
Cancer in low-Earth orbit
As a follow-on project flown on Axiom's first mission into space, this effort examines stem cell models that can help predict and prevent cancer. These models can be tools for detection of and therapies for pre-cancer, cancer, and a variety of other diseases on Earth.
Space tissue and regeneration
Bioengineered liver and kidney tissue constructs will be sent to space to assess the impact of microgravity on vascularization of thick tissues. If successful, this platform technology and approach could lead to the in-space bioengineering of 'building blocks' of tissue that can serve as a bridge to transplants in patients awaiting a limited supply of donor organs.